Treat pigmentation and dark spots at all revealing brighter skin, while improving the look of fine lines and uneven skin tone.
Light, water-based serum ideal for daily use

Reduces the appearance of hyperpigmentation & dark spots 

Plant-based formula strengthens skin barrier

Rich botanical blend brightens & evens skin tone

Packed with powerful plant-based ingredients that refreshes skin

,

minimizes dark spots and hyperpigmentation and reveals brighter, even looking skin
Regular price
0.00
Sale price
75.00
Unit price
per
Sale
Sold out
View full details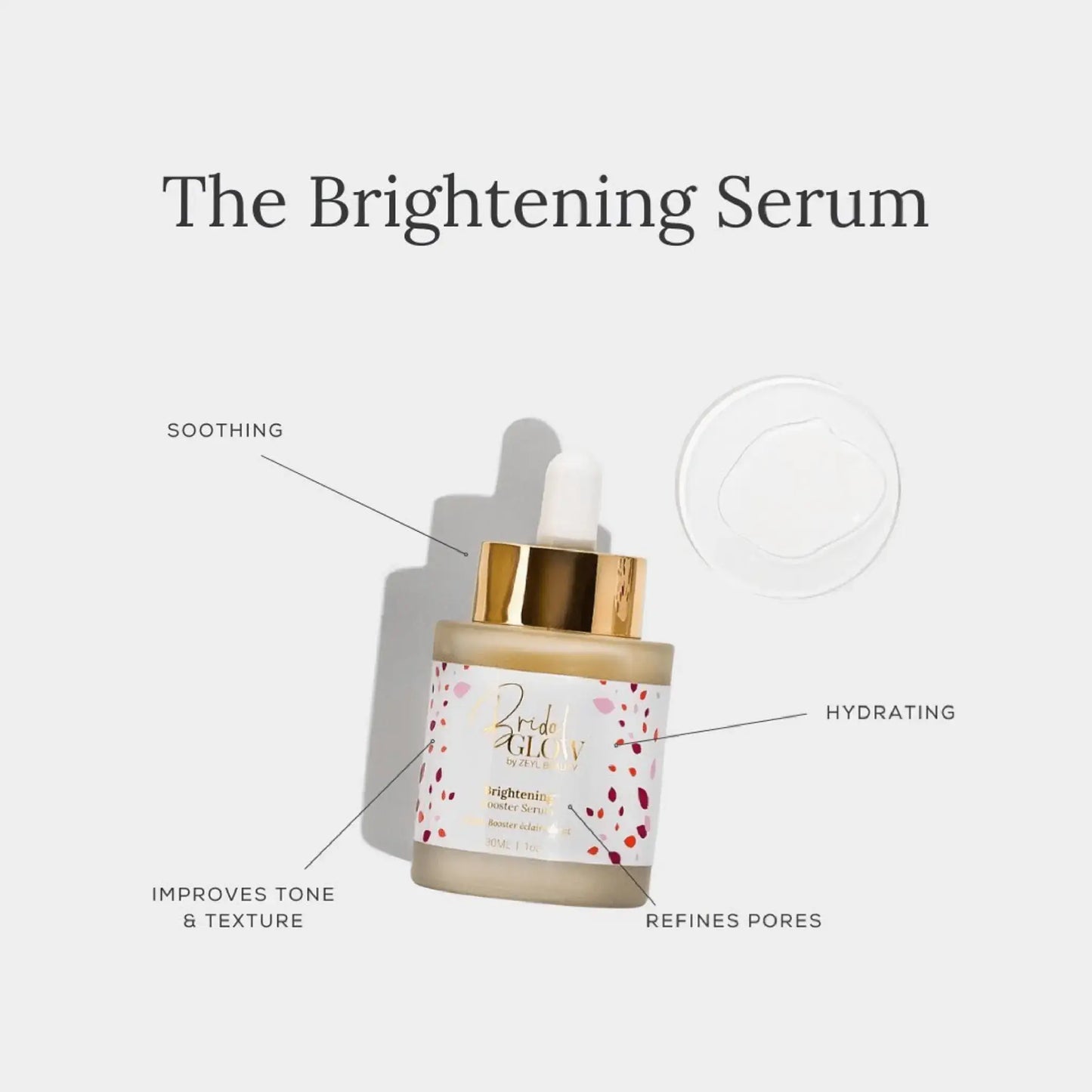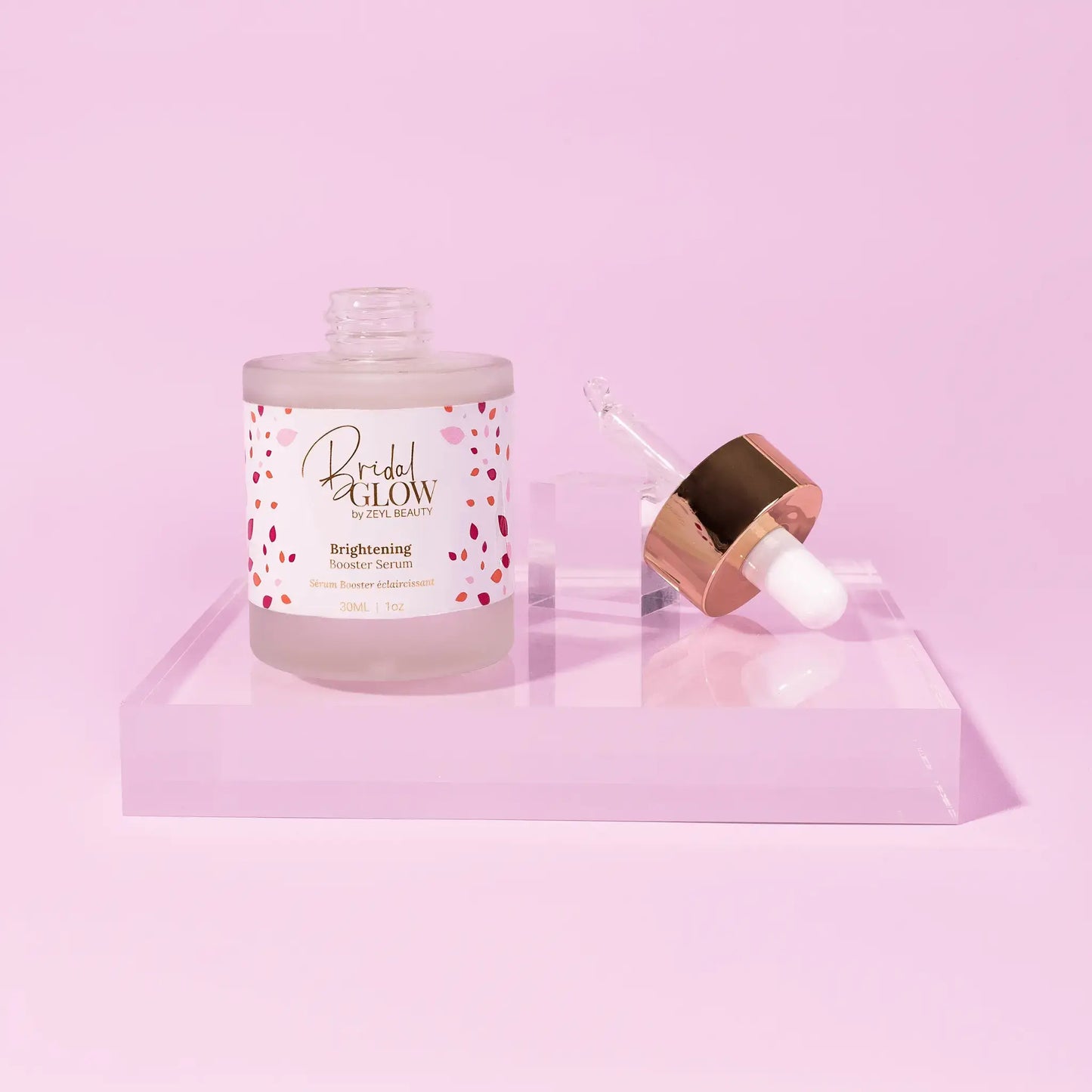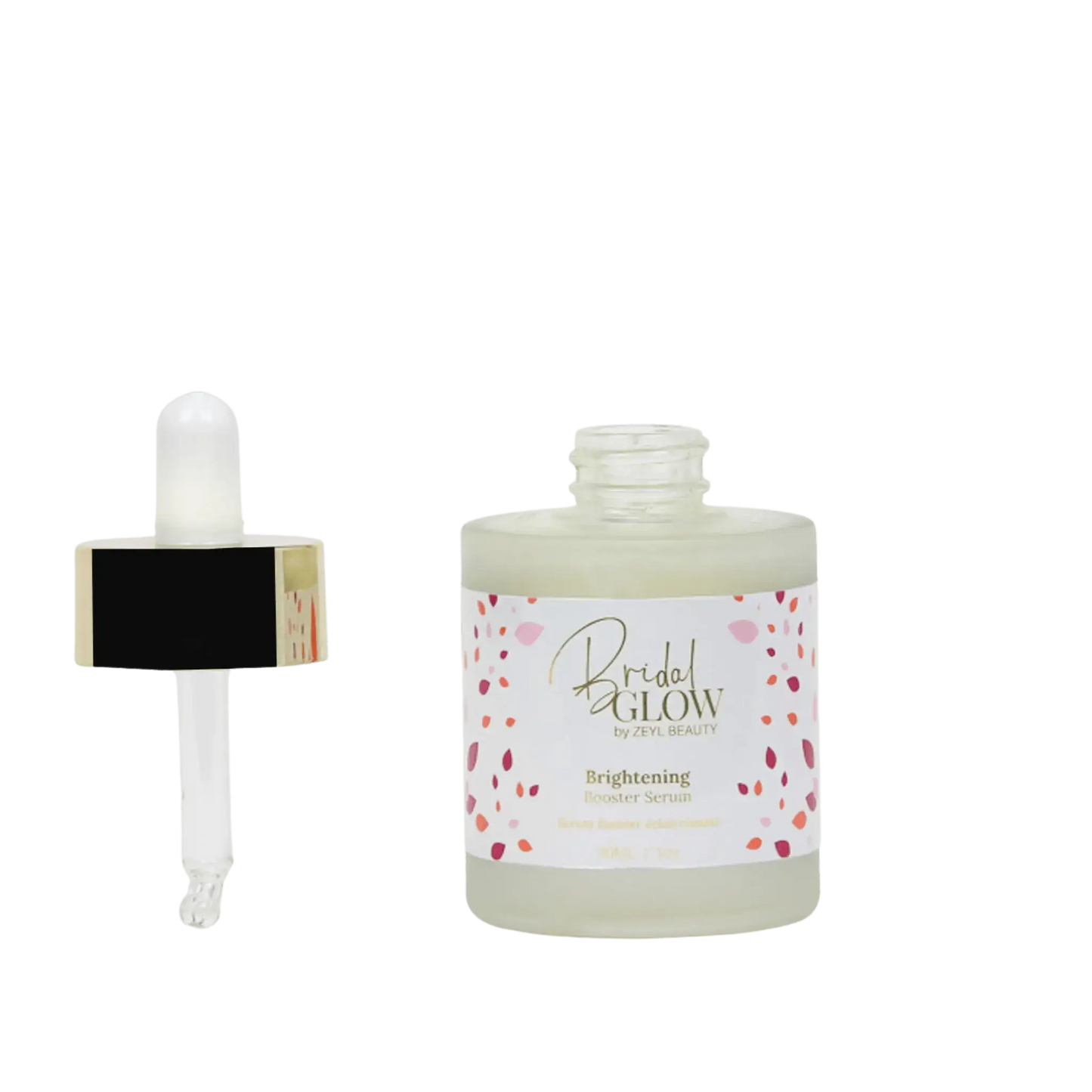 What its good for
≛ Dark Spots, Sun Spots & Acne Scars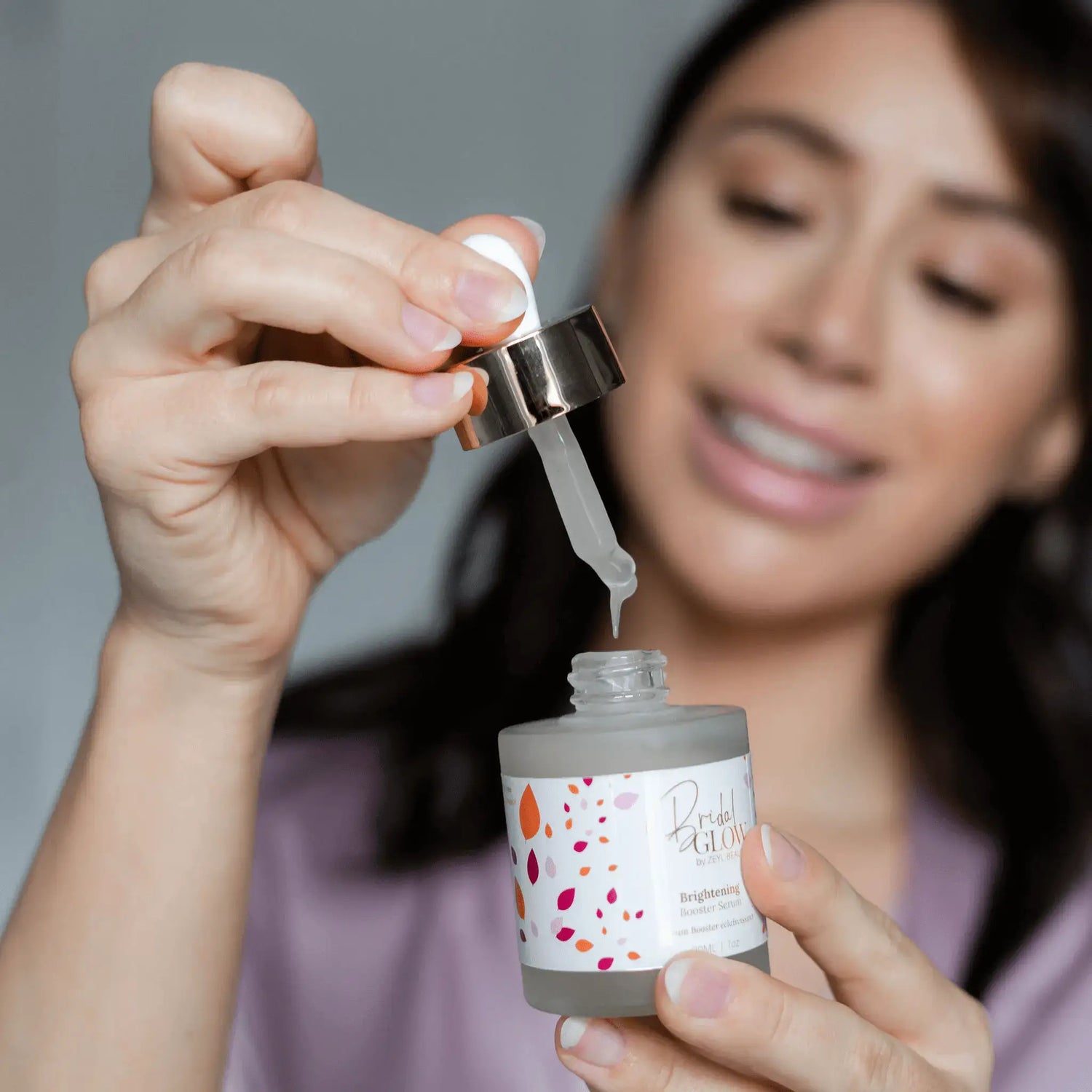 How to Use
After cleansing and toning, apply a few drops of serum to your entire face. 
Want to boost the glow-up? Mix this serum with your Bridal Glow Masque for a personalized and concentrated Dewy Glow. Each drop of serum will concentrate and amplify the hydrating effects of the mask to support what your skin needs most.
Real Results
97%

agreed skin had an increase in brightness & radiance*

96%

agreed skin had improved texture*

97%

agreed skin had improvement in dark spots & discoloration*
Frequently Asked Questions
Ingredients

Herbal Infusion, Vegetable Glycerin, Jojoba Oil, Willow Bark Extract, Glycolic Acid, Licorice Extract, Carbomer, Kojic Acid, Hyaluronic Acid, Lemon Balm Leaf Extract, Vitamin B3 (Niacinamide), Alpha Arbutin, Triethanolamine, Vitamin A, Phenoxyethanol, Sorbic Acid, Caprylyl Glycol.
When should I use this product

Brightening Booster Serum should be used on clean skin. Therefore, cleanse skin and then apply your serum.

Follow with moisturizer in the AM and the PM and SPF in the AM.
Is it safe for sensitive skin

Brightening Booster Serum is made up of 100% natural, nonirritating ingredients. Everyone's experience and skin can be quite different so we recommend reading the ingredients and preforming a patch test prior to your first use.
Is it safe for use during pregnancy

While formulated without endocrine-disrupting ingredients, please consult with your physician.
More product details

Illuminate Your Skin with Brightening Booster Serum

Unveil a brighter, more radiant complexion with our transformative Brightening Booster Serum. This potent serum is designed to treat pigmentation and dark spots while reducing the appearance of fine lines and uneven skin tone. It's your key to a more youthful, luminous glow.

✨ Radiant Transformation: Brightening Booster Serum is your secret weapon for achieving a brighter, more radiant complexion. Say goodbye to dark spots and uneven skin tone as you embrace a luminous glow.

🌿 Skin-Type Harmony: Suitable for all skin types, including oily and sensitive skin, our serum caters to diverse skincare needs. It's the perfect addition to your daily regime for visible improvements.

🌟 Anti-Aging Marvel: Reduce the signs of aging with the power of retinol. Our serum is formulated to improve the look of fine lines and promote skin renewal, revealing a more youthful you.

🌌 Pore Refinement: Experience the magic of refined pores. Our serum not only brightens but also minimizes the appearance of pores, giving you a smoother, more even complexion.

💧 Hydration Infusion: Enjoy the benefits of moisturizing and hydration. Brightening Booster Serum keeps your skin moisturized and plump, combating dryness and redness.

🛡️ Collagen Boost: Boost collagen production for visibly firmer skin. Our serum is packed with antioxidants to help fight the signs of aging and maintain your skin's elasticity.

🍃 Exfoliating Elegance: With gentle exfoliating properties, our serum treats pigmentation and dark spots effectively, promoting a more even skin tone.

✨ Your Daily Radiance Ritual: Make Brightening Booster Serum an integral part of your daily skincare routine. Watch as your skin transforms, revealing a brighter, more youthful radiance.

Don't let pigmentation, dark spots, or uneven skin tone dim your natural beauty. Elevate your skincare regimen with Brightening Booster Serum and rediscover your luminous glow.